Banking Industry Secure File Transfer Management Solution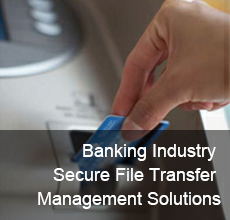 Industry Descriptions
Large quantities of data, images, and offline transactions that require timely and accurate data transmission from each branch of the production server to the head office and/or branches from head office to the center.
With the rapid development of banking intermediary business, including the head office and credit card center, brokerage, social security, the collection of withholding, government institutions, other banks, and other third parties, data exchange is growing exponentially by scope and number.
Challenges
To transfer large amounts of data, the transfer process would go through a number of servers, network links, institutions, and personnel throughout branches and outlets. This results in a downward efficiency of data transmission, reliability, security, SLA, and many other requirements. Traditional file transfer tools in a bank-level application environment have been sub-par.
Can banks ensure data transmission with the third-party security?
Third-party transfers security must meet accessibility, flexibility, and instantaneous requirements under the premise that security is guaranteed to provide reliable, stable, and high-performance transmissions.
Related Download